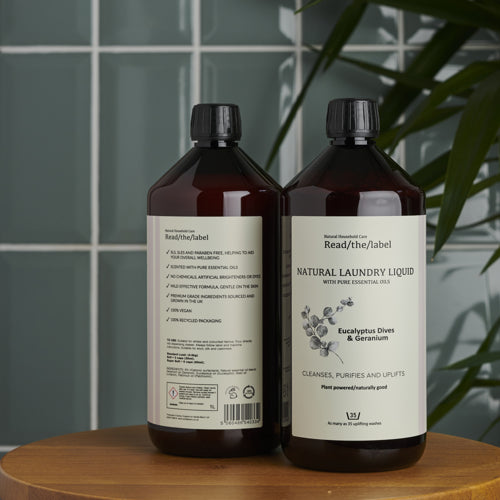 Natural Laundry Liquid
Most of us – especially with young children in the home - do multiple laundry washes every week. More than ever, we are aware and concerned of the impact of detergents on both the environment and our skin – as allergies and skin reactions seem to be on the rise.
Our Read the label Natural Laundry Liquid is incredibly gentle on the fabric and on the skin. Made using a mild builder made from Chicory roots, the liquid breaks down the harsh water salts that cause wear in the fabric. The liquid also contains Saponaria Officianalis extract (a perennial plant from the carnation family), that acts as a delicate cleanser and is extremely gentle on sensitive skin!
Natural Laundry Liquid- Eucalyptus Dives & Geranium 1000ml

This is the only range available on the market that is purely scented with organic essential oils to help aid your overall wellbeing.

The fresh minty Eucalyptus dive oil has a balsamic woody undertone. It is considered by Aromatherapists to be uplifting and helping to combat stress. The Geranium essential oil is also thought to be beneficial in combatting anxiety and has antibacterial, antioxidant, and anti-inflammatory properties. Not only that but this unique product also brings a powerful clean whilst keeping fabric fibres luxuriously soft and smelling fresh!

Ingredients: 5 - >15% Non-ionic surfactants. > 5% Paraben free Preservative (contains phenoxyethanol), Xanthan gum (Naturally derived from Maize), Saponaria officinalis (soapwort) leaf extract, aqua (Exmoor water), potassium sorbate, >1% Natural Essential oil blend: Geranium oil (Geraniol), Eucalyptus oil (Eucalyptol), Basil oil (Linalool), Patchouli oil (Patchoulol), Natural Solubilising agent (Capryl Glucoside).


Price: £18.00

Shop Now

Natural Laundry Liquid- Bergamot & Grosso Lavender 1000ml

This is the only range available on the market that is purely scented with organic essential oils to help aid your overall wellbeing. Commonly used in aromatherapy thanks to its calming and uplifting properties, Bergamot oil can simultaneously provide cleansing and purifying benefits.

Grosso lavender is the most fragrant of all the Lavender varieties and is thought to aid skin conditions and detract moths from clothes. Not only that but this unique product also brings a powerful clean whilst keeping fabric fibres luxuriously soft and smelling fresh!

Ingredients: 5 - >15% Non-ionic surfactants. > 5% Paraben free Preservative (contains phenoxyethanol), xanthan gum (Naturally derived from Maize),saponaria officinalis (soapwort) leaf extract, aqua (Exmoor water), potassium sorbate, >1% Natural Essential oil blend: Bergamot (Citrus bergamia risso) oil, Geranium oil (Geraniol), Ylang Ylang (Cananga odorata) oil , Lavender (Lavendula) oil.
Price: £18

Price: £18.00

Shop Now