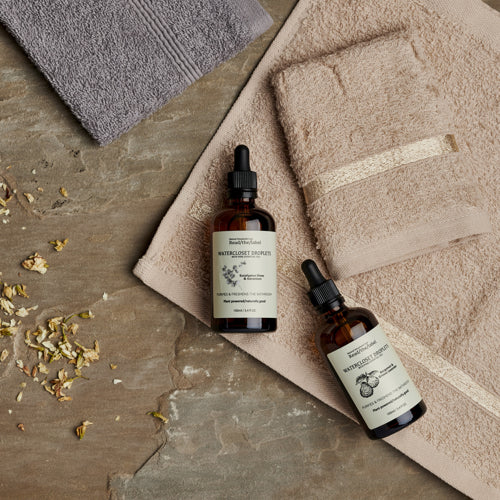 Watercloset Droplets
A gift for your bathroom...
The ultimate room in the house in need of cleansing is usually the toilet and cloakroom. Our Sicilian Lemon Watercloset Droplets is a new and innovative product to help reduce odours – a fantastic & natural alternative to chemical heavy air fresheners, sprays and toilet cleansers.  
Small but mighty, this bottle contains a trio of Lime, Geranium and Lemon essential oils to clear the air of unwanted smells, leaving the room fresh and inviting, thus extending courtesy to the next loo user.
Bergamot and Grosso Lavender Watercloset Droplets 100ml

This wonderful blend has various benefits. Bergamot oil is a fruity and vibrant oil known for its purifying properties, Geranium oil is thought to have antioxidant, antibacterial and astringent properties while the latest research has found that inhaling the aroma of lavender essential oil can elevate your mood!

Direction: We recommend 6-7 drops in the toilet bowl to neutralize odours. An additional 4-5 drops in the bathroom sink will amplify the aroma with a burst of citrus freshness.

Ingredients: Bergamot (Citrus bergamia risso) oil, Geranium oil (Geraniol), Ylang Ylang (Cananga dorata) oil, Lavender (Lavendula) oil.


Price: £17.00

Shop Now

Eucalyptus Dives & Geranium Watercloset Droplets 100ml

This wonderful blend has various benefits. Geranium oil is known for its anti-inflammatory properties, Eucalyptus oil is thought to have antioxidant, antibacterial and astringent properties.

Direction: We recommend 6-7 drops in the toilet bowl to neutralise odours. An additional 4-5 drops in the bathroom sink will amplify the aroma with a burst of citrus freshness.


Price: £17.00

Shop Now